Wang Xudong
Director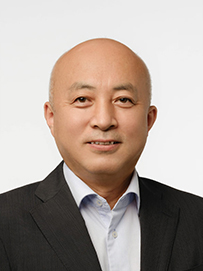 Wang Xudong, male, Han ethnicity, was born in February 1967. He holds a doctorate in engineering. Wang began his career in August 1990 and is now a Senior Research Fellow in Museology (the highest professional title).

Wang consecutively served as deputy director and director of the Institute for Conservation Research of the Dunhuang Academy as well as assistant to the director of the Academy. Later, he served as deputy director of the Academy; executive deputy director of the Academy and deputy secretary of the Academy's Party Committee; secretary of the Academy's Party Committee and executive deputy director of the Academy; and the Academy's director and Party secretary. Currently, he is a member of the Party Leadership Group of the Ministry of Culture and Tourism. He is also the director of the Palace Museum, responsible for comprehensive management of the Museum and overseeing the Director's Office and Foreign Affairs Department (Office of Hong Kong, Macao and Taiwan Affairs).

Wang has long been dedicated to the conservation of grottoes, ancient murals, and earthen ruins and the research on cultural heritage monitoring, precaution, and preventative conservation. Since 1991 when he started working in cultural heritage preservation, he has led over 60 projects involving the protection and maintenance of major national-level protected historical and cultural sites and undertaken over 20 national or provincial/ministerial-level research projects. Besides, he has led or participated as a key member in more than 10 international cooperation projects in partnership with cultural heritage protection and management institutions in the United States, Japan, the United Kingdom, Australia, and other countries. So far, Wang has published over 170 academic papers. He is listed as the head author of six works including Essential Technology in the Conservation of Earthen Ruins and Specifications for the Research of Ancient Murals. He has received about a dozen national and provincial/ministerial-level awards in the fields of science and technology including the Ho Leung Ho Lee Foundation award for scientific and technological innovation and over 20 patents for technological invention. In addition, he led the formulation of five national and industry technical standards. Wang has received many honors including National Outstanding Professional in Science and Technology, Top-notch Innovative Talent in the Publicity and Culture System, May 1st Labor Medal of Gansu Province, Outstanding Expert of the Ministry of Culture, Outstanding Expert of Gansu Province, and Model Worker of Gansu Province. He was selected for the Recruitment Program for Top Talent and the Gansu Provincial Leading Talent Program. He is an alternate member of the 19th CPC Central Committee.