Opening Hours
Tuesday to Sunday, Closed Monday(Except National Traditional Holidays)
| | | |
| --- | --- | --- |
| | Opening hours | Last entry |
| April 1st - October 31st | 8:30 - 17:00 | 16:00 |
| November 1st - March 31st | 8:30 - 16:30 | 15:30 |
Temporary Closure
*The Palace Museum is open from Tuesday to Sunday throughout the year, and Mondays on national holidays, except the eve of the Chinese New Year.
*The museum may be closed on irregular basis sometimes. The management of the museum apologizes for any inconvenience caused.
*The Palace Museum does not sell tickets on the day of your visit. Please make arrangements in advance.
| | |
| --- | --- |
| April 1st - October 31st (high season) | |
| November 1st - March 31st (low season) | |
| The Treasure Gallery (i.e., The Palace of Tranquil Longevity Area, including the Gallery of Qing Imperial Opera and the Stone Drum Gallery) | |
| The Gallery of Clocks (i.e., The Hall for Ancestral Worship Area) | |
*The Palace Museum is limiting the daily number of visitors to 40,000, and recommending both individual visitors and tourist groups book tickets in advance online. Foreign visitors are required to provide passport numbers during the online booking. 
* If you have any question regarding ticketing, please send an email to bookingticket@dpm.org.cn.
Service Map

Entrance
Service Center

Guide

Audio Guide

Accessibility

Luggage

Lavatories

Nursery

Shop

Bookstore

Food & Drink

Coffee

First Aid

Broadcasting Station

Stroller Rental

Exit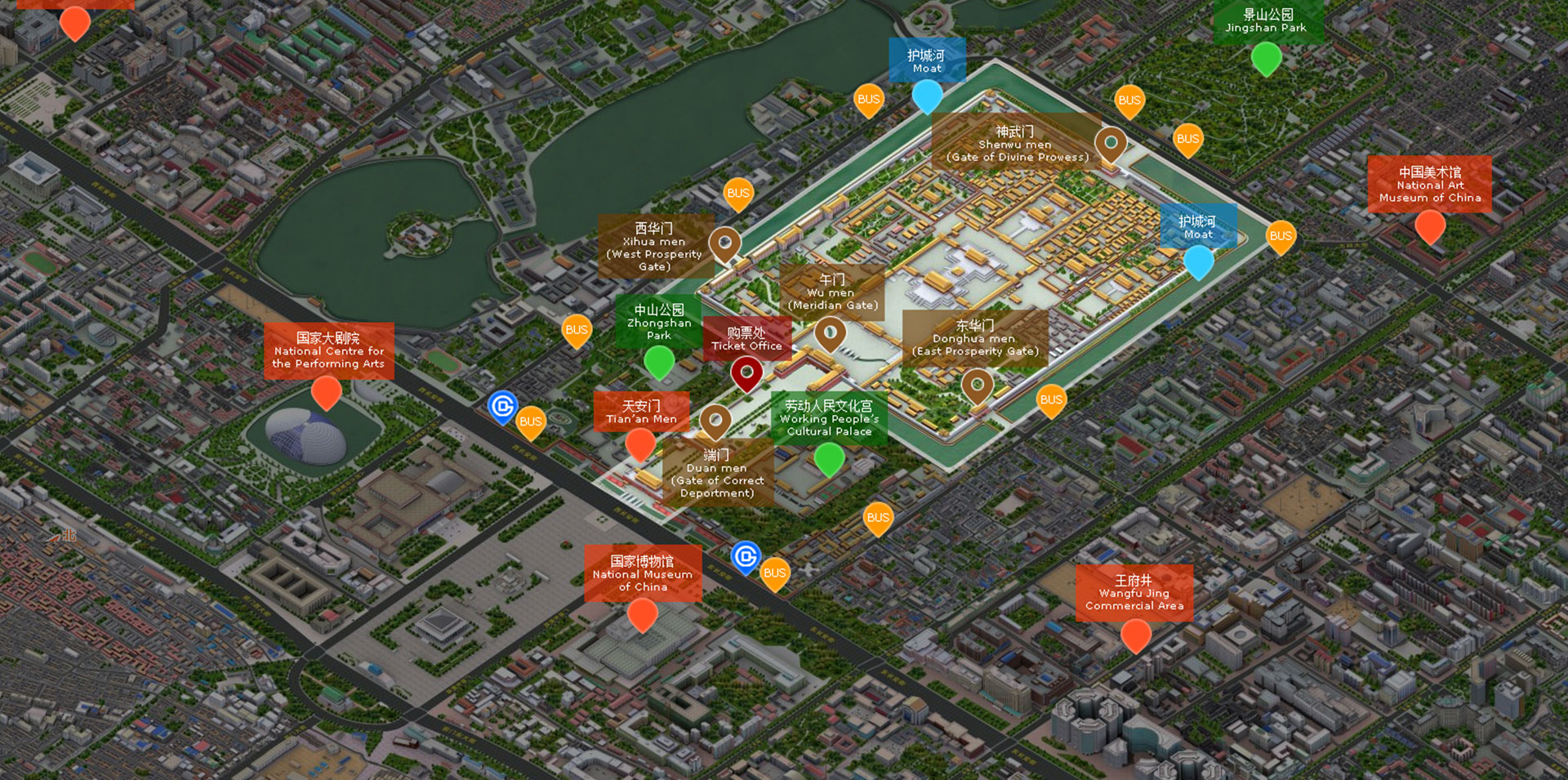 Located in the heart of Beijing, the Palace Museum is approached from the south through the Gate of Heavenly Peace (Tian'an men). Ten-meter-high walls and a fifty-two-meter -wide moat surround the palace. Measuring 961 meters from north to south and 753 meters from east to west, the expansive architectural complex covers an area of 720,000 square meters. Each of the four sides has one gate, namely, the Meridian Gate (Wu men) on the south, the Gate of Divine Prowess (Shenwu men) on the north, the Eastern and Western Prosperity Gates (Donghua men and Xihua men). Immediately to the north of the Palace Museum is Prospect Hill (Jing shan, also called Coal Hill), while the Wangfujing and Zhongnanhai neighborhoods lie to the east and west, respectively. Visitors will be excited to find a wide variety of historic sites, scenic parks, shopping malls, museums, and theatres in the vicinity of the Forbidden City. Conveniently located bus stops and subway stations provide easy access to transportation.