Admission: Free with general admission ticket
Jointly organized by the Palace Museum and Northwest University, the exhibition "
Across Vast and Distant Deserts: Archaeological Discoveries on the Silk Road (Uzbekistan)" opened at the Palace of Eternal Longevity (Yongshou gong) in the Forbidden City on 16 December 2020 as the first public exhibition in China showcasing archaeology conducted in the Central Asian country of Uzbekistan with an emphasis on the protection of the cultural heritage of the region's Silk Road as well as related research accomplishments.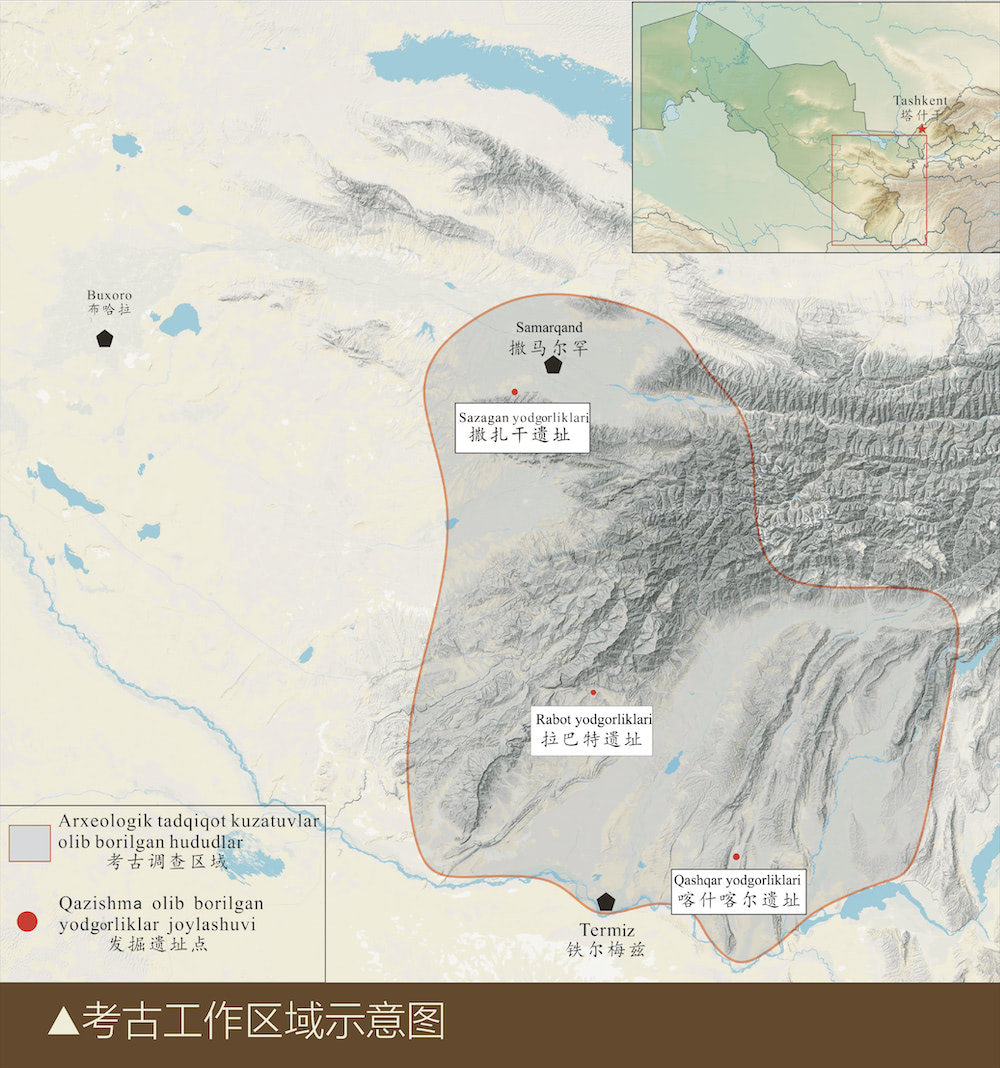 Archaeological Sites
Since ancient times, Central Asia has been an essential crossroads on the network of trade routes known as the Silk Road as well as a confluence of oriental and occidental civilizations and, in modern times, an enduring focal point for Silk Road research. Uzbekistan has a long history with a glorious culture and, moreover, long-held ties with China. Over 2,000 years ago, Zhang Qian (164–114 BCE) of the Han dynasty (202 BCE–220 CE) blazed a trail through the western regions in search of the Greater Yuezhi people and arrived in the territory of present-day Uzbekistan where he made historic achievements in exploring the geography of Central Asia and the margins of political power while opening up the Silk Road as a conduit between China and the West. Today, the implementation of China's Belt and Road Initiative by China has brought great opportunities for cultural exchange and mutual appreciation between China and Uzbekistan in this new era. Since 2009, Northwest University, the Institute for Archaeological Research of the Academy of Sciences of the Republic of Uzbekistan, and other organizations have formed Chinese and Uzbekistani archaeological teams to discover remnants of the ancient Yuezhi people. Beginning in 2017, researchers from the Palace Museum joined the Chinese-Uzbekistani cooperative. Through archaeological surveys and excavations, the team has unearthed large quantities of artifacts and ruins from different historical periods that serve as abundant material evidence for understanding the flourishing ancient Silk Road and for expanding global research on the historical cultural exchange between China and Central Asia.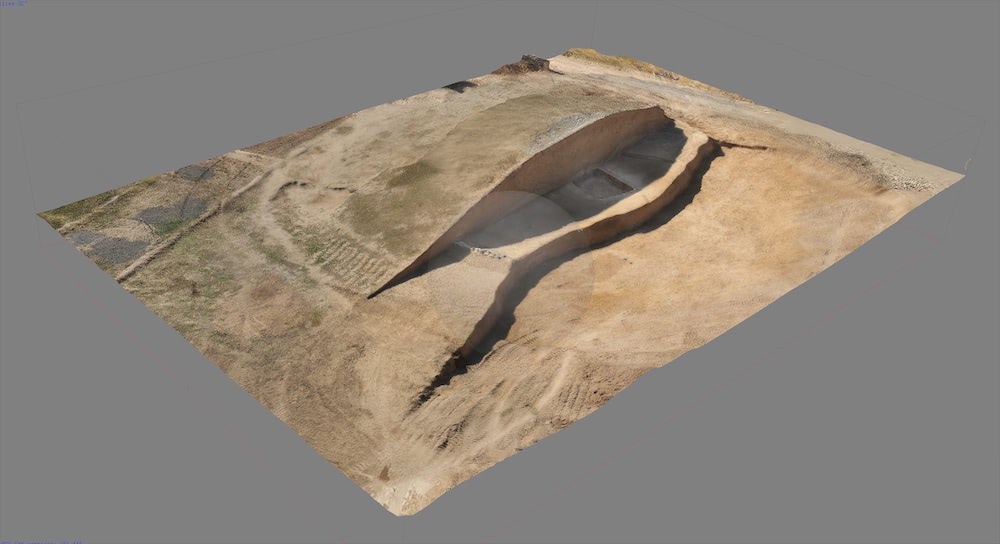 Sazagan Ruins: 3D View of M11
This exhibition is organized by the Palace Museum and Northwest University to provide a public presentation of results from China's international archaeological cooperation, to serve as a timely announcement of China's leading archeological research achievements, and to display ninety pieces (or sets) of the finest examples of artifacts unearthed in Uzbekistan from 2015 to 2018 in Chinese-Uzbekistani cooperative archaeology projects. The exhibition is divided in two sections. The first is "Archaeological Finds at the Sazagan Ruins", which highlights work done at Sazagan, located approximately twenty kilometers southwest of Samarqand. From 2015 to 2016, archaeologists unearthed five small tombs, one large tomb, ceramics, and objects made of gold, iron, copper, and bone. Judging from characteristic period traits, geographical distribution, and cultural indications, the tombs probably belonged to ancient nomads who lived in the area around 2,000 years ago. The second section is "Archaeological Finds at the Rabot Ruins", which presents finds from the Rabot ruins located approximately two kilometers southwest of Boysun. From 2017 to 2018, the team discovered ninety-four small tombs. The tombs with male hosts typically include weapons and tools while those with female hosts have decorative objects. Items unearthed include copper mirrors, hairpins, needles, bells, earrings, rings, bracelets, and plaques; ceramic basins, bowls, cups, jars, and flasks; iron short-swords, arrowheads, rings, buckles, and knives; strands of beads of various materials and shapes; as well as gold-leaf ornaments, bone implements, and seashells. The tombs are dated to around the end of the second century BCE or the beginning of the first century CE.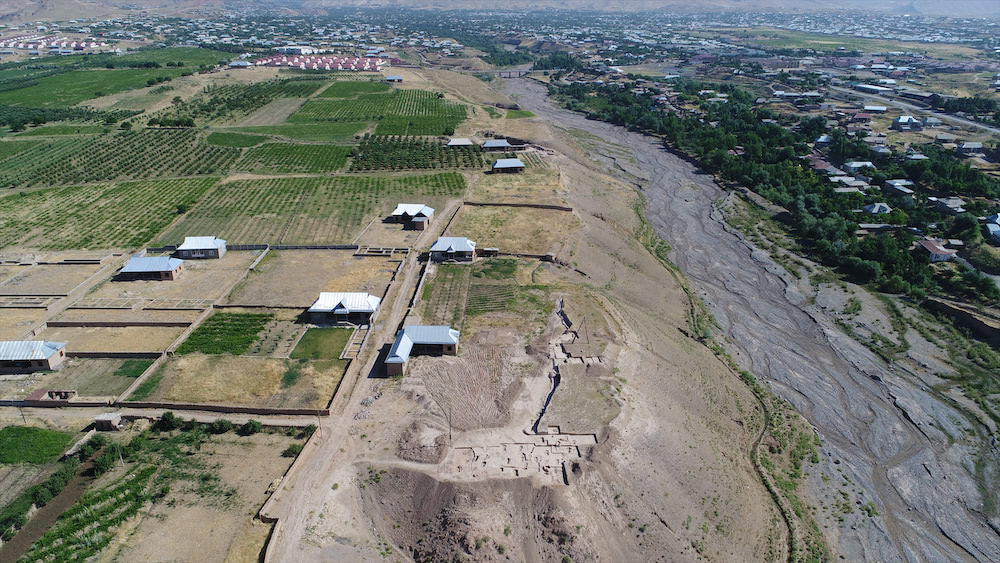 Panorama of the Rabot Ruins
The featured content of this exhibition is merely a small portion of the archaeological work in Central Asia and a presentation of the results of the phased work as well as a testament to the cultural exchange between Chinese and Uzbekistani archaeologists. These projects not only advance the historical and archaeological research, cultural exchange, project cooperation, and societal progress of China and Uzbekistan but also make significant contributes toward realizing China's Belt and Road Initiative strategies and the transmission of Chinese culture. President Xi Jinping has put forward the directive to diligently construct archaeology with Chinese characteristics, a Chinese style, and a Chinese manner, to better recognize China's long-standing and well-established extensive and profound civilization, in order to provide firm support to promote China's outstanding culture and to strengthen cultural confidence. The Palace Museum will continue the construction of an "Academic Palace Museum", develop the inherent resource advantages of its platform, continue to actively participate in the archaeological work, protection, and research of Silk Road cultural heritage, advance the international influence of Chinese archaeology, promote outstanding history and culture, expand cultural exchange and mutual appreciation, and serve as a cultural ambassador of international friendship and interchange in this new era.
Chinese article provided by Wu Wei
Translated and edited by Adam J. Ensign and Kang Xiaolu
Location:
Palace of Eternal Longevity (Yongshou gong)
Related Exhibitions
Galleries